CROSS POSTED ON BYLINE.COM
It is a supreme irony. Margaret Thatcher's government ended the Treasury contribution to the National Insurance Fund that has now deprived 3.9 million women born in the 1950s of their pensions for up to six years. Now she could also be their saviour.
This is because Britain's first woman prime minister took the decision to ratify in 1986 the United Nations Convention on the Elimination of All Forms of Discrimination 1979 (CEDAW).
It is this decision that commits the United Kingdom to outlawing not only any discrimination against women who are unfairly treated but demands reparations for the people who lost those rights.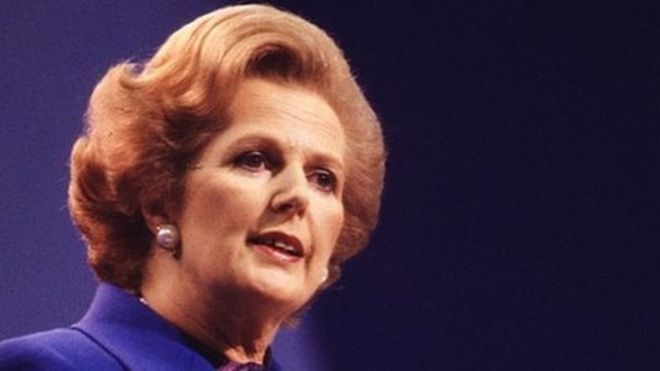 The CEDAW convention also crucially provides a mechanism to deliver the money to 50s women without facing a legal challenge from any other group – whether it be the pensions industry or anyone else.
The role of this convention is likely to be a major debating point in next week's high court judicial review since Professor Jackie Jones – elected last week as a Labour MEP for Wales and former professor of Feminist Studies at the University of the West of England – will be BackTo60s expert witness. In the hearing that led to the granting of the judicial review she produced a brief here which explains the convention.
What is particularly exciting for 50s women – regardless of the result of the judicial review – is that this mechanism known as a Temporary Special Measure could be implemented by government ministers without any need for a judicial review at all. All it would need is the will of the politicians to do something about it under our obligations to ratify CEDAW.
The effect would be to legal proof any challenge without changing the law that has equalised the state pension age.
There is also an extraordinary precedent which was adopted by the Blair government and extended by the Brown government.
In 2002 Parliament passed the Sexual Discrimination (Election Candidates )Act which set up the controversial all women's short lists for MPs, MSPs, MEPs, AMs and local councillors. The aim, as a detailed House of Commons library briefing reveals, was to dramatically increase the number of successful women candidates in public life and redress the balance between men and women holding public office.
This particular change was seen as a Temporary Special Measure originally aimed to end in 2015.
The 2010 Equality Act used an order to extend this to 2030. The measure was enthusiastically adopted by Labour who had pioneered the idea for the 1997 general election. Other parties did not adopt all women short lists but came under increasing pressure to select more women candidates.
The result has been a big increase in the number of women in Parliament. Now there are 208 women MPs in Parliament compared to 60 in 1992 before Labour introduced the all women shortlist.
Two issues have not been sorted out. The UK has repeatedly refused to embed all the provisions of CEDAW into domestic law. It steadfastly refuses to incorporate CEDAW into the Equalities Act 2010 or pass a separate Act that would provide women with the rights and fundamental freedoms Mrs Thatcher pledged to adhere to over 30 years ago.
And no special legislation has been passed to allow such payments to be made to the 3.9 million women born in the 1950s.
However this is changing. A Parliamentary motion calling for a temporary special measure to compensate the women has attracted 139 MPs from all parties and widely differing views. These include a number of ex ministers from the two main parties including Tories Sir Michael Penning and Robert Halfon, Labour's Kevan Jones and Angela Eagle.
Other MPs supporting Anna McMorrin's motion include the DUP chief whip, Sammy Wilson and Brexit spokesman Nigel Dodds; Green Party MP Caroline Lucas; Labour MPs Stephen Kinnock, David Lammy , Chris Bryant, Emma Lewell-Buck and Gareth Thomas; Tory MPs, Sir Peter Bottomley, Dame Caroline Spelman,Sir David Amess, Sir Henry Bellingham and Laurence Robertson;Liberal Democrat MPs Jo Swinson, Layla Moran, Tim Farron and Stephen Lloyd; Plaid Cymru MPs, Ben Lake and Jonathan Edwards Scottish Nationalists, Angus Brendan MacNeil and Deidre Brock and Independents John Woodcock and Chris Williamson.
What is clear is a gathering support for action among MPs – something the present government and pensions minister Guy Opperman ignore at their peril. The 50s born women have a just cause on their side.